Set in steamy, spooky Savannah, where mystery abounds.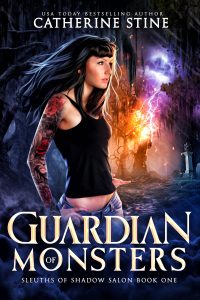 Supernaturally on the Case!
Celestine LeBlanc and Luna Finley are the Sleuths of Shadow Salon
Celestine, a witch with a talent for prophetic drawings is shocked when she draws her landlord Ray with his eyes gouged out and a winged-mermaid by him. Soon, he turns up dead. All she wanted was open a gallery, but first she must apprehend his killer. In a note, Ray revealed he was actually a supernatural pirate mage. Years back, his Jekyll crew trapped the evil Demon Three Eyes clan. Ray feared they'd escaped.
Oryn, a fae and classmate in Celestine's art class, asks nosy questions. Yet, she's drawn to him when he's her spa masseur, and he's clever at brainstorming leads. He insists his air magic could come in handy.
When pirates in Ray's old crew are murdered, Celestine decides she needs help from Oryn and Luna, a mermaid asking to show at Celestine's new gallery—the same mermaid in Celestine's drawing! Otherwise, the monstrosity Demon Three Eyes unleashes will destroy Savannah. For fans of Kim Harrison, Charlaine Harris and those who love paranormal crime procedurals.
The ebook's on sale through Jan '24! Grab it here: Amazon, Apple, Kobo, B&N, Smashwords
Readers are saying:
"I'll be reading the next one!"   "Witches, werewolves, fae oh my! A witch's prophetic drawings lead to a battle against evil!"   "…There's sizzling romance between Celestine and Oryn, the hot fae, and a big twist around it."   "Fantastic first book in this urban fantasy series with the bonus of pirate mages!"   "What's better than a mystery? A supernatural mystery!"   "I recommend this for anyone who likes paranormal detective books!"   "This supernatural mystery was just so much fun to read!"   "Fantastic new paranormal crime procedural with two female MC's!" – Witch at Heart.  "Highly recommended! This little gem was great." – Witch at Heart
Theater of Curses, Sleuths of Shadow Salon Book 2 launches in Spring '24
Pre-order goes live in Mid-December '23!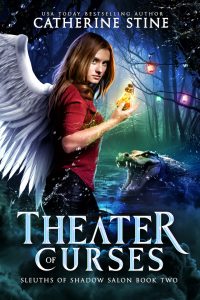 Shadow Salon detectives Luna and Celestine take on their second case, when Tim Calhoun insists his Conservatory of Theater Arts has been cursed, and the police have come up dry. He claims a red specter is terrorizing him, upturning his library of historic plays, setting fires in the theater, even brutalizing him. Tim is desperate to solve this terrifying mystery before Hollywood directors and agents flock to Savannah to watch his students perform and sign them.
The 1811 anonymous play is The Romance of the Recording Angels. Hazardous incidents follow rehearsals. Luna interviews students, inspects dorms and the library, where she unearths a copy of the play with strange red notations. She hires Arthur Dodge, a necro-visionary to find out who drew them. The shocking entity he resurrects reveals that three aerial realms must be unlocked to end an actual curse. But as time runs out, where the realms are, what must be done in them and just why the curse was inflicted remains a mystery.
To uncover clues, Luna uses her water magic and flight skills, while resisting her growing attraction to client, Tim. Celestine shares tips from her automatic drawings. As time runs out, Luna must try anything: Dodge's visionary tea, Hoodoo Root Worker, Selka Dupree's spell jars, and farmer Crow Dao's lessons in realm jumping. If Luna fails to reach the realms, the conservatory will be shuttered, the curse will spread… and worse.