Like mermaids? Get Secrets of the Mermaid (Keepers of Knowledge shared world) at Amazon USA, Canada, UK, Australia. FREE on KU! Read in any order. 
Readers are saying:
"A magical, intriguing journey under and above the water. Forget what you knew about mermaids, Stine has brought a fresh new twist to them. I absolutely fell in love with Indigo from the start." – reader review
"I immediately cared about Bay and Indigo and the mermaid world they inhabited. The underwater mystery with supernatural elements added excitement and adventure to the romance elements." – reader review
"The author has built a wonderful universe with vibrant characters and a great story. I got sucked into the story by the end of the first chapter." – reader review
"Full of mystery, love and history. If you want a book you can't put down, this is it!" – reader review
Secrets of the Mermaid
(The Keepers of Knowledge series bk. 6)
Subtitle: A Paranormal Romance Urban Fantasy
Catherine Stine
Meet Indigo Rain, a beautiful but lonely mermaid. Regretful of a dark past, she has vowed to remain alone and research ancient merfolk tribes. When she unearths a seabed burial site that even she cannot identify, she shares this with a High Council merfolk historian. But she keeps one shocking secret to herself.
Bay Finley is the flirty, dashing Royal merfolk Keeper assigned to teach Indigo on Pyreshore, a glamoured city of supernaturals tasked with keeping invaluable knowledge alive. Indigo thinks Bay is a know-it-all. She also thinks he's dangerously handsome. He's engaged to Abigail Torrent, a Royal, unlike Indigo, but he's spending time with Indigo in the lab…
Indigo has three quests:
Uncover the mystery of the burial tablet, resist falling in love, and never, ever reveal her biggest secret, even to the Keepers.
Some secrets heal, some kill. Other secrets change life as we know it.
10 books, 10 authors, 10 keepers, 1 shared world. Can read as standalone!
Get Secrets of the Mermaid (Keepers of Knowledge shared world) at Amazon USA, Canada, UK, Australia. FREE on KU! Read in any order. 
***
Like sexy shifters? Get Alpha's Revenge Amazon USA, CANADA, UK, AUSTRALIA
Free on KU. Read books in any order.
Readers are saying:
★★★★★ "Sexy romance full of shifters, witches, revenge… with very imaginative spells flying around. Twists keep you guessing to the end!"
★★★★★ "I love this book!!!"
★★★★★ "The characters fit well together and have amazing chemistry. You will not put it book down until it's finished!"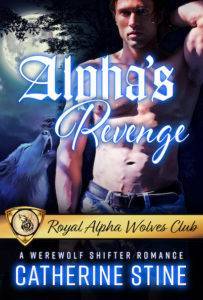 A heartbroken furious alpha, a forbidden childhood crush revisited. 
 Will karmic justice destroy them both?  
From the languid, sexy heat of New Orleans, all the way to the icy Canadian Wilderness, supernatural creatures live shadow lives amongst mortals. But what if one of the most powerful and regal of beings—wolf shifters—found their packs disappearing through longstanding battles and vicious payback? The Royal Alpha Wolves Club, a worldwide, ancient organization formed to keep order and secrets safe among werewolf packs is faced with this very dilemma. So, when the club leader gives the dire order for all royals to find a mate and produce an heir within a year it's in the wolf shifters' best interest. Wayland, though, is not on board. 
 Meet Wayland Leblanc—legendary royal alpha, hell-bent on revenge for his murdered mate. When the edict comes down from the leader in his new territory that all royals mate and produce an heir within the year or lose royal status, Wayland hits the road. He's not ready. Instead, he charges up to Canada in his mini-camper, to wreak revenge on Thorn, the Tundra shifter who killed his mate Sabine and their unborn babe. He conscripts an army of coyote shifters in his revenge plot, and stuffs down his lingering heartache by partying with neighboring witches. What he doesn't plan for is falling hard for Stormy, Thorn's mysterious sister. But pursuing a star-crossed Juliet to his Romeo just might cost Wayland and Stormy their lives.
Get Wayland's story here. FREE on KU! Read in any order.