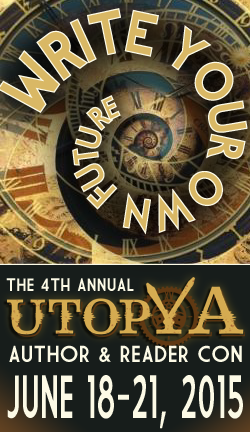 I am going to UtopYA this year for the first time, and I'm really looking forward to it! I've been hearing about this book con for a while now. It will be surreal because I will be meeting many authors in person who I "know well" from the blogging and online author community. What is UtopYA exactly? Well, here's a post from the an organizer, who can explain it better than I can:
Have you got a story in your heart simply bursting to be told? Or characters in your head who never stop whispering their secrets? Maybe you're a devoted reader who wants to tell the world about your favorite books. No matter your goals, UtopYA will envelop you with open arms as well as inspire you beyond belief!
The book conference brings female writers of contemporary and supernatural YA and NA fiction together with their fans. Book lovers from far and wide, including authors and readers as far away as the UK, Scotland, and South Africa. This year's expected attendance of 700-1,000 will be its highest ever.

Those who are interested in a thriving book community will enjoy panels and camaraderie. Readers will not only meet some of their favorite authors (and even do karaoke with them!), but they'll attend educational panels to learn about honing their craft. Whether it's writing or editing a book, designing covers, developing marketing strategies, blogging – they've got a panel for that and more!
Keynote speakers Denise Grover Swank, Lauren Miller and Kim Holden will kick off each day followed by educational panels, games, screenings and more. These panels contain expert advice to aspiring authors and book bloggers, plus open discussion for audience participation. Over 100 exhibitors will showcase their work and meet readers; a B&N and indie bookstore are also on site. In addition to the cosplay karaoke on Friday night, the highly anticipated UtopYA Awards will take place Saturday evening, where nominees are honored thanks to their peers and fans. We'll get dressed up and dance the night away as we fangirl over our favorite book boyfriends 😉
In addition, there is a book signing on Saturday that is open to the public – all UtopYA asks is a book donation or $5 to their charity Book 'Em. In return, you'll meet bestselling authors, plus a chance to discover plenty of new ones! More than a few women have called this event a life-changing experience! The event is already at 75% capacity, so get your tickets here or hurry over for more information at www.utopyacon.com.

Want to know who'll be there? Here's a PARTIAL list of authors, experts, models & vendors, ready to meet YOU: