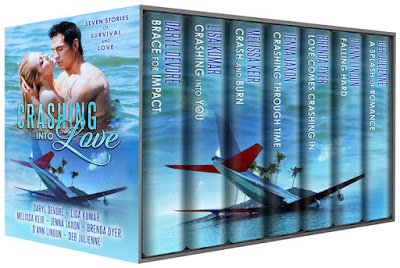 Like summer beach reads? Me too! I'm thrilled to feature a steamy, action-packed beach read boxed set called Crashing Into Love. It includes the novella Crash and Burn by the fabulous romance author Melissa Keir, who also happens to be the publisher over at Inkspell romance.


This boxed set is a complete steal at only $0.99. Included are seven edge of the seat tales from veteran romance authors.
First, the blurb for Melissa's novella Crash and Burn:
Can Rob and Keira's second honeymoon lead to romance, or will it crash and burn?
On the verge of a divorce, Rob and Keira Matthews book a second honeymoon at the urging of their counselor. Unable to conceive, they've pushed each other away in an effort to protect their hearts. Will a romantic holiday be the ticket to love or a plane crash in disaster?
A teaser – guaranteed to make you say OMG, I need to find out what happens!
   Crashing waves.
   A wet tongue on her cheek.
   Damp and lying on a hard ground, Keira rolled to her side and coughed up water. Unable to catch her breath, she pushed herself up on her hands and knees. Choking, coughing, fluid flowed from her lungs.
   Somewhere nearby, the dog barked.
   "Oh, my God. Rob!" She crawled to her husband's prone body at the edge of the water. She flipped him to his back then laid her head on his chest. No heartbeat.
   "Honey. Wake up." She pounded on his chest. Tears flowed down her face. "I won't give you up. We've had too much history. Fight, baby. Come back to me." She straddled his body and began chest compressions. "One, and two, and three." She parted his lips then blew into his mouth. She returned to pushing on his chest. "One, and two, and three. Come on, dammit. Fight!"
   Time ceased as she continued the compressions. Frightened, she shuddered then threw her body down over his chest. Sobs decimated her frame.
   "Please, God. Don't take him from me." Pleading, bargaining, beseeching.
   Water flowed out of his mouth as coughs rocked him. He gagged.
   "Rob!" She pushed him onto his side and thumped on his back as he expelled more water. "Thank God. Just cough it out."
   "Please don't cry." His words croaked out as he rolled onto his back. His gaze met hers. He reached toward her face, but his arm fell back to the sand.
   "We need to get you out of the water. I can't do it on my own." She stood and grabbed under his arms. Pulling him, she quickly tired. "You have to help. Use your legs and push."
   This time, he moved out of the water. Gris lay down next to Rob and licked his hand.
   "I'm going to look around." As she straightened, her legs buckled, and she collapsed on the sand. "I think I'll just lie here for a bit." She curled in next to her husband and let sleep overtake her.
 
And now, about other tales in Crashing Into Love:
Lost meets Romancing the Stone–action adventure, a dash of mystery, and romance to die for.
Seven planes lift off…seven planes crash…seven stories of struggle, passion and love in the barren Canadian Wilderness, the coast of England, or the steamy heat of a tropical island. Romance hangs in the balance between survival and death.
Brace for Impact by Daryl Devoré
What could be simpler than a routine plane trip from Toronto, Canada to Caracas, Venezuela for rookie flight attendant, Lori, and sexy R.C.M.P. officer, Guy Lapierre? But Fate had other intentions.
Crashing into You by Lisa Kumar 
When Ashlee Trent meets handsome businessman Kaiden West on a plane to Australia, he eases her fears even as he sets her heart ablaze. But after their plane crashes into the ocean and they wash ashore, will the secrets surrounding him send their budding relationship into a nosedive?
Crashing Through Time by Jenna Jaxon 
The most dangerous thing about time travel is knowledge of the past: does she save him and change history, or let the tragic events play out and lose the love of her life?
More than hearts can be broken when you crash through time.
Love Comes Crashing In by Brenda Dyer
Best friends find love in each other's arms, but can that love survive reality?
Falling Hard by D'Ann Lindun 
He craves solitude to forget what a woman did to him. She needs one last chance before her career ends. Can a plane crash in the Canadian Rockies show them what really matters?
A Splash of Romance by Deb Julienne 
Who knew a plane crash would lead to romance? Hannah Parks is a trauma nurse on her way to a symposium at the Sister Kenny Rehabilitation Institute. She just started her bucket list and a plane crash definitely isn't on it.  Oliver Lawson's divorce is final and he's looking to start over. A tropical island, a gorgeous woman. Romance is one thing, getting there as a result of a crash landing…who knew?
Snag your copy from Amazon (US), Amazon (UK) or Createspace
 About Melissa Keir:
   For my wedding in Vegas, my books and computer came with me but there wasn't enough room for my wedding shoes. It's all about priorities! As an avid reader, I was probably born with a book in hand. Luckily my mom was also an avid reader, so it was easy to "borrow" her books when my books were finished.
   I was reading from an early age about dashing men on horseback riding to the rescue of strong willed and capable women who didn't really need rescuing. I came to expect that women in fairy tales should have fought their own battles. When I was older, I found Margaret Atwood and realized that women could re-tell history in their own way and I experimented with changing those basic fairy tales.
   Fortunately for me, my husband allows me the opportunity to be myself (spend my salary on books) and still takes care of the really important things for me like killing spiders and opening jars. As an elementary teacher, teaching children about the many worlds inside of books is a gift that I'm lucky enough to do for a living. Teaching the next generation to love reading is a lot of fun. Reading the right book can make a new world come alive!
   Currently living in the suburbs of Ann Arbor, Michigan with my darling husband, way-too-grown-up children and spoiled dogs, I enjoy getting away through a book to escape the harsh winters or summer road construction.