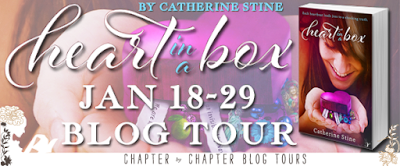 Heart in a Box is on Tour with Chapter by Chapter! Below are all of the stops. There are guest posts, playlists, interviews and other fun things, including a giant Rafflecopter full of prizes! As always, the links will go live as the blogs post. I'm proud and grateful to say that Heart in a Box has been on the Amazon top 100 in Teen and Alternative Family for four + weeks and is also an Amazon "Hot New Release." FYI, buy links are on the right side of this blog.


A bit about Heart in a Box's journey…
Enter the Rafflecopter below. The prizes include: 
A $40 gift card, 2 hand-painted heart-boxes with secret treasure inside, a signed paperback of Dorianna by Catherine Stine, a signed paperback of Heart in a Box by Catherine Stine, a great YA ebook pack of novels: Tiger Lily by Wende Dikec, When Sorrows Come by Katie M John, and Time Runs Away with Her by Christine Potter.
Week One
January 18            Cover2Cover – Interview
January 18            Review books – Review
January 18            Illuminite Caliginosus – Dream cast for Heart in a Box
January 18         Susan Heim on Writing – Spotlight/Promo
January 19           Njkinny's World of Books & Stuff – Review
January 19            The Avid Book Collector – Spotlight/Promo
January 19            Painted Words Reviews – Review
January 20            Driftless – Spotlight/Promo
January 20            Chapter by Chapter – Interview
January 20            Hidden Worlds Books – Spotlight/Promo
January 20            M Pax Dimensions in Fiction- Spotlight/Promo
January 21            Diana's Book Reviews – Guest Post
January 21            Crystal's Chaotic Confessions – Spotlight/Promo
January 21            Ogitchida Kwe's Book Blog – Spotlight/Promo
January 21            Cassandra M's Place – Spotlight/Promo
January 21            5 Girls Book Reviews – Review
January 21            Reader Girls – Spotlight/Promo
January 22            WS Momma Readers Nook – Guest Post
January 22            Go Read A Book – Review
Week Two
January 25            Don't Judge, Read – Guest Post
January 25            A Dream Within A Dream – Spotlight/Promo
January 25           Books and Ladders – Guest Post
January 26            Book-Keeping – Review
January 26            The Page Unbound – Guest Post
January 27            Wishful Endings – Spotlight/Promo
January 27            Ellie Garratt – Guest Post
January 27            BooksChatter – Interview
January 28            Booklovercircumspect4 – Guest Post
January 29            Star Crossed Reviews – Spotlight/Promo
January 29            Lisa T. Cresswell – Guest Post
January 29            Becca's Book Affair – Review
January 29            Books Direct – Review
RAFFLECOPTER: