Now that my tour is over it's time to talk about other writers and books!
I'm pleased to feature my friend Amy Kathleen Ryan and her wonderful space opera trilogy, and specifically the last in the series,
FLAME
. She's here to answer questions. But first, about Flame: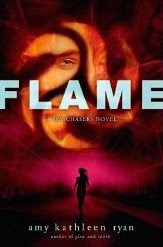 In the thrilling conclusion to Amy Kathleen Ryan's Sky Chasers series, Waverly, Kieran, and Seth struggle to survive on-board the New Horizon—and take down their enemies before it's too late.


Waverly and the other members of the Empyrean have been scattered, and their home ship destroyed. Their mission to rescue their parents didn't go as planned, and now they're at an even greater disadvantage: trapped with their enemies on the New Horizon, trying to find a way to survive. Kieran has been pulled under Anne Mather's wing, but is she really trying to make peace, or just using Kieran to build her own power? Meanwhile, Waverly is taken in by a mysterious old man who wants to help her bring Anne Mather down—but the more Waverly cooperates with him, the more dangerous her position is, and the more at odds with Kieran she becomes.


Seth's situation is worse. After setting out from the Empyrean on his own, with only a vague strategy to guide him, he's a fugitive aboard the New Horizon. He's doing what he can to challenge the power of Anne Mather, but he's hurt, and getting sicker. All the while, unknown to him, the terrorist Jacob is making plans of his own. Will Seth ever see Waverly again? Will his health hold out long enough to help her topple their enemies? And will Waverly find a way to unite with her friends before they all fall? 
And now, take it away, Amy.
Tell us about Flame, Book Three of The Skychasers
Flame is the conclusion to the series. The Empyrean has been destroyed, and our heroes Waverly, Kieran, and Seth are now forced to live on the New Horizon with their enemies. After a lot of conflict between the central characters, suddenly they need to find ways to work together if they're going to survive.
Give us your favorite line from Kieran
He felt he was in a trap, but he couldn't see the walls or feel the chains, as though Mather had somehow gotten him to lock himself in.
From Waverly
She would always remember that nebula as a graveyard for so many of the crew of the Empyrean, people she'd known her whole life. That's where I died too, she thought. Waverly Marshall the innocent is buried there.
From Seth
As the guards pushed him into the captain's office, he understood finally what his life had been about: Revenge for his mother's death. To be a hero. To save her. To undo it somehow. To bring her back.
Was this clarity, or delirium? His fever ate through his thoughts. When had it gotten so bad?
"No wonder I'm so fucked up," he said under his breath as the tall office chair at the desk swiveled around, and he was face to face with a matronly, plump old woman who could only be Anne Mather, the anti-mother.
Watch Amy talk about the villain!    Click to watch
What first attracted you to write about space travel?
The setting! A space ship is a pressure cooker for a story. You're in the middle of nowhere, and no one can come help you if you're in trouble. You're essentially in a life boat, and you have to make it work with the people who share it with you, even if they are loathsome. It narrows the choices your characters can make about how to deal with their situation. They're trapped.

Book Two

Book One
Tell us an important lesson about writing a trilogy
The second book is twice as hard to write as the first, and the third is twice as hard as the second. If I ever write another epic, I want to have the entire story written before I sell the first book. It will help to make the story tighter.
What truly inspires you and fires up your vision?
Reading! Reading anything by anyone. I get good ideas from brilliant novels as well as from so-so books. Reading feeds right into the part of my brain that wants to make up stories.
Where do you write?
I've got three young children, and they dominate my house. I start out my writing session during naptime, but eventually the house gets noisy, and can be distracting. It took me a long time to figure out the best place to write: In my master bedroom closet. It sits right next to my master bath, so I can close three doors between me and my little hellions. If I run the bathroom fan, I hardly hear them at all. It's cramped in there, and not glamorous, but I get a lot done. (If I turn off my internet connection that is!)
What do you enjoy doing when you're not writing?
I like to garden. I have a sizable plot. Not picturesque and riddled with weeds, but I get delicious produce out of it. I also watch too much TV, but I'll confess some of the best writing I've seen lately is on the boob tube. I recently binge watched Breaking Bad and I am so impressed with the writing on that show.
Which aspect of crafting a novel is most challenging? Most fun?
Most challenging? For me, getting it to where I think it's good enough. A lot of self-doubt goes into that process. I'm actually afraid to be too confident because then I might not feel that burning fire that makes me keep working. Most fun? I love writing the first draft. Finding my way through the story is always just like playing with my imaginary friends. It's a rocking good time.
A hint of what you're working on next?
It's about a shoplifter. Her father abandons his family at a crucial time, and it sends ripples of shock through every character, making them all act out in different ways. It's about how a split second decision can change the rest of your life forever.
Buy the Skychaser series! Amazon, Indie Bound, B&N

Find Amy on the web  Website & Facebook
About Amy: Amy Kathleen Ryan is a graduate of the New School Writing for Children MFA program. She lives in Colorado with her family.