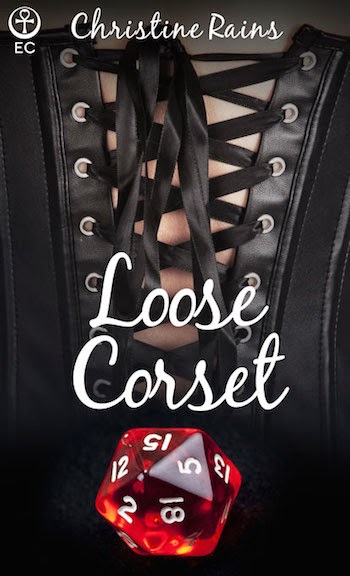 I am thrilled to present Christine Rain's romantic comedy series Dice and Debauchery, and the first, which is called Loose Corset. I know, even the name makes me giggle. I snapped up a review copy as soon as they were available, and I laughed myself silly all the way through it. My review is below, but first, some info:
Loose Corset
Dice and Debauchery, Book 1
A Romantica® contemporary erotic romance
from Ellora's Cave, for 18+
The blurb:
A weekend away at a convention is exactly what overworked student Morgan needs. Dressed as her character from her favorite online game, Morgan is braced—seriously, could her corset be tighter?—to meet the other players. As Lady Gyrfalcon, she's ready for everything—except her intense attraction to Dean. A clandestine meeting in the hallway of the hotel and Morgan's corset is looser but now she can't breathe for entirely different reasons.


Utterly charmed, Morgan decides to roll the dice and indulge in a fantasy-worthy weekend of sexy roleplaying, scorching sex and life-altering orgasms. Still, through it all Morgan is too smart to believe the chemistry constantly stripping her of costumes and control can last more than the length of the convention. But if she wants to keep a relationship so intense she thought it only existed in fiction, she's going to have to let go of her cool-headed logic and allow herself to fall far and fast for the perfect guy.
Shop for Loose Corset at: Amazon, B&N, Ellora's Cave, Kobo


My review- 5 stars!
I appreciate a tale that makes me laugh and Loose Corset accomplished that to the max! What could be more entertaining than a bunch of horny geeks who all knew each other from an online gaming community finally getting to meet one another–in full-out Comicon type costumes!? Ms. Rains turned the stale formulaic romantic trope on its head and succeeded in making awkward, intellectual nerds super-sexy. Love, love, loved it, from the moment Morgan hurries to escape the con floor to loosen her suffocating corset in the ladies room, to the fumbling first kisses in the dark con hallway, to Dean's surprisingly masterful moves.
The rub? Morgan is insecure. Does Dean love her fictional online character more than her real, live one? Should she continue to role-play to keep him hooked? The sex is hot, the chase is fun, and her friendship with her roomie, Emily – even the angst over sharing the hotel room while Morgan is trying to have alone time with Dean is realistic. We've all been there at one time in our fumbling youth.
Even Ms. Rains' chapter heads are fun. They consist of Geek Girl Problems, each numbered the way a brainy girl would, of course, be compelled to do. I so look forward to the next in the series.
The giveaway deets:
1st prize: a set of red gem gaming dice from Chessex & a Christine Rains personalized die
2nd prize: erotic dice & a Christine Rains personalized die
3rd prize: 3 people will win a Christine Rains personalized die
About the author:
Christine Rains is a writer, blogger, and geek mom. She's married to her best friend and fellow geek living in south-central Indiana. They have one son who is too smart for his parents' own good and loves to pretend he's Batman. Christine has four degrees which help nothing with motherhood, but make her a great Jeopardy player. When she's not reading or writing, she's going on adventures with her son or watching cheesy movies on Syfy Channel. She's a member of Untethered Realms and S.C.I.F.I. (South Central Indiana Fiction Interface). She has several short stories and novellas published. The Dice & Debauchery series is her first contemporary erotic romance.
Visit her: Website, Blog, Twitter, Facebook, Goodreads, Pinterest