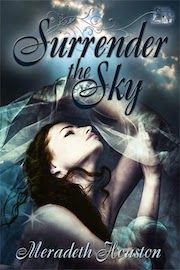 Today, Idea City welcomes Meradeth Houston. Her brand new novel, Surrender the Sky is out and I know you're curious about it, so take it away, Meradeth.
Thanks so much for asking me here today, Catherine! Here's the rundown on Surrender the Sky:
Gabby lives by two unbreakable rules: don't expose her kind, the Sary, and don't fall in love—too bad some rules are made to be broken.


When Gabby's most difficult charge accidentally shoots her in front of a class full of students, the event exposes her carefully hidden identity. She shifts from looking like a normal teen to her secret Sary form, revealing her wings and the existence of her kind—immortals who try to keep people from committing suicide. Her incident attracts the attention of the next leader of the Sary, Jassen, who offers her an impossible bargain: she can keep her wings if she makes amends with those who know the truth. Things get more complicated when a rebel Sary, intent on exposing them to the world, starts interfering with Gabby's work. And there's no denying her attraction to Jassen, who is torn between his duties and his heart. With threats at every turn and her immortality on the line, Gabby has to find a way to save the Sary or surrender the sky forever.
Tell us about your main characters:
Gabby is the main character. She's a pretty typical Sary, AKA a being who wasn't able to take her first breath and is therefore sent to help people who are on the verge of taking their own life. She has to face some pretty horrible situations, and doesn't feel exactly ready to take on the responsibility that come with them, but she has some amazing friends who help her out :).
In what ways do they change?
Over the course of Surrender, Gabby has to come to terms with what she is, and the gifts she's been given. Also, she has to know just how much she's willing to sacrifice for what she loves. It's not an easy decision!
Give us your favorite line from your protagonist
Hmm, that's a tough choice. "How could I give this up? Surrender the sky? It wasn't fair. I wanted to choose for myself." I think this is one of my favorite lines from Gabby.
From an antagonist
Leon is the antagonist in this book, and wow does he have a lot of tricks up his sleeve. How about this one: "Leon, his lips still pink from the kisses we'd shared, turned to me. "I may not be him, but I have so much more to offer." He managed the same little quirk of a smile patented by Jassen and took my hand from where it sat in my lap and pressed it to his mouth."
An emblematic, teaser paragraph
This is how things get started: "I knew the day was not going to end well as soon as I saw the gun. It bulged in the outside pocket of his backpack, hidden unless someone looked for it. Of course, I had to be the one looking for it."
What keeps you going when your inspiration flags?
Hot chocolate. Lots of it :). Reading something else awesome that distracts me from my own world so I can return to it with fresh eyes.
What truly inspires you and fires up your vision?
A good book or movie that gets my creative juices flowing. Also, a long afternoon with nothing else on where I can actually relax and enjoy myself. There are very, very few days like this, but I treasure them.
Best words of advice you ever received?
Take time to do what makes you happy. It's so important! Life is short.
Worst?
Strive for perfection. I hate this. Like, with a passion. Because it haunts me. And it's impossible to attain, which just messes with my head. I hate that anyone would even suggest that you should shoot for this—impossible goals help no one! (End mini rant! Haha, can't help it!)
Some writing advice to aspiring and new authors?
Keep writing and don't give up! The only way to improve is to keep going, even if some days it feels like slogging through ten feet of snow, uphill, in -20 weather with a wind chill.
Which do you enjoy writing most: action, romance, setting, dialog?
Hmm, that's a toss up before action and romance. Dialog is part of both, as is settling, but I love a scene that is fast paced and gets my blood pumping.
A hint of what you're working on next?
The fourth book in the series, which I hope I can pull together. It's a crazy tale with several different points of view, but so far it's been a blast to write.
Where can readers find you on the web?
My favorite haunts: website, blog, Facebook, Twitter
Buy the ebook! Amazon, Goodreads
A bit about Meradeth:
*I'm a California girl. This means I talk too fast and use "like" a lot.
*I have my doctorate in molecular anthropology. Translation: I sequence dead people's DNA and spend a whole lot of time in a lab, which I love.
*I've been writing since I was 11 years old. It's my hobby, my passion, and I'm so happy to get to share my work.
*My other passion is teaching. There's nothing more fun than getting a classroom of college kids fired up about anthropology!
*If I could have a super-power, it would totally be flying. Which is strange, because I'm terrified of heights.