I went to BEA recently and had a blast signing books, meeting friends, checking out forthcoming novels and snapping photos!
Plus, the night before the expo, I got to hang out at the Harvard Club, and pick up a YA finalist Next Generation Indie award for
Ruby's Fire!
The place brimmed with other interesting writers, including Lindsay "LC" Barlow, a finalist for her horror ebook,
Pivot,
and Janet Shawgo, a finalist for her romance novel
Find Me Again.
I was impressed by the VP, Catherine Goulet for her enthusiasm, professionalism and intense dedication to promoting great indie lit.
I signed at the SFWA booth and the Headline booth, where the Next Gen Indie winners and finalists signed. It was big fun getting to talk directly with librarians, teachers and bloggers.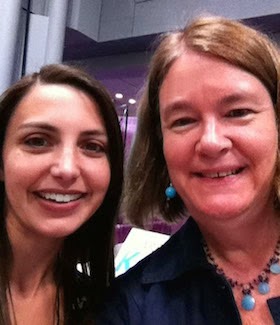 Meeting Kelly Hashway
I met Kelly Hashway, an online blogger and friend. She was signing at the Spencer Hill booth for The Monster Within. I also said a hearty hello to Jonathan Maberry, a fellow Philadelphian, who is quite beloved for his amazing horror novels.
Stopped by to meet and greet the inspiring Georgia McBride, founder of Month 9 Press and Swoon.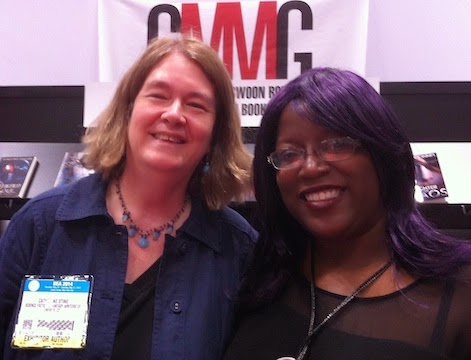 Chatting with the fab Georgia McBride
And hey, I couldn't resist getting my picture snapped with the uber-buff Ellora's Cave cover models. One of them even writes romance. Who would've thought?!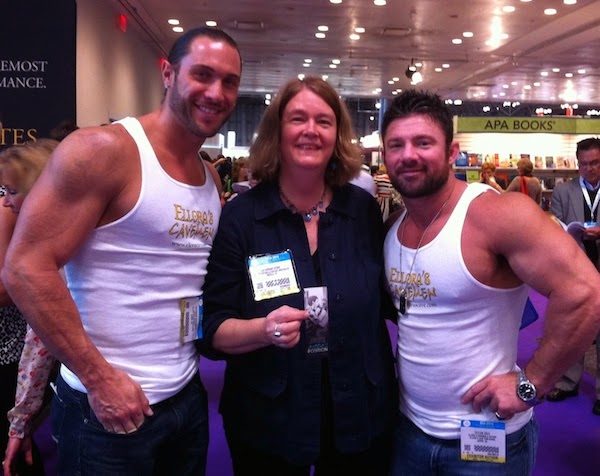 The Ellora's Cave cover models were good sports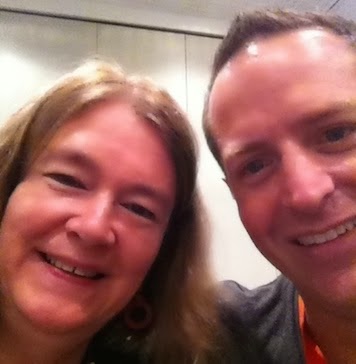 Hanging with Hugh Howey
The next day I got to meet Hugh Howey, darling of the indie scene, and hot damn, his Wool series proves that he's one excellent writer. Have you read it yet? The first in the series is perma-free!
He wrote a smart post about Amazon and Hachette debacle.
I also sat in on a fascinating panel with some of the most successful indie romance authors, HM Ward, Bella Andre and Barbara Freethy ( a hybrid author). They all said that readers love series, and that when creating one, a writer should leave it as open-ended as possible so that you can add on more books should the series become popular.
Bella said that she has a family series, the Sullivans, with eight siblings and when readers clamored for more, more, more she actually extended the family into a series about the cousins, and then extended it into a handful of cities. These women are all super-fast writers. They say in this era of insta-buy ebooks that people want the next books in the series immediately after finishing the last one! I guess I'll have to get better at fast drafting.
Have you been to BEA? Any other great conferences?
Oh, and before I forget, the huge book giveaway is still open. Click here to enter the Rafflecopter. Plus a must-read from Indie author Dean Wesley Smith here.