Time to toss confetti and do a happy dance. Private Internship, book two of my Art of Love series launches today!
In huge appreciation of my readers, bloggers and fellow authors I'm offering a special limited launch deal! For the first 50 people who buy Private Internship, you will get Model Position absolutely free with an emailed proof of purchase! Email me at kitsy84557 (AT) gmail (DOT) com and let me know which ereading format & ebook you'd like. (If you've already read Model Position, choose one of my YA futuristic thrillers Fireseed One or Ruby's Fire, or even the new writers' cookbook, Bake, Love, Write, where I share a recipe & advice on love & writing)
Get Private Internship: Amazon, B&N, 
All Romance Ebooks, Kobo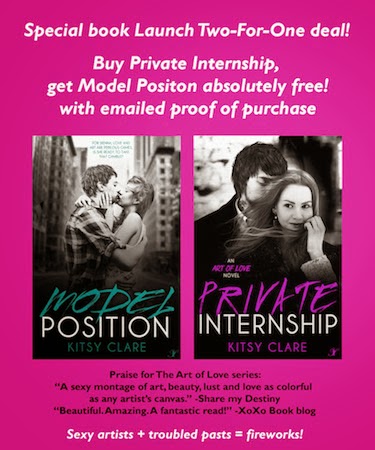 *Caz is the most entertaining bada@s book boyfriend yet, with the most fireworks relationship, and I'm pretty sure you'll get a kick out of his hijinks. The lowdown:
Sugar's not so sweet and secrets can be deadly … especially with matters of the heart


Sienna's bestie, Harper warned her not to intern for famous bad boy artist, Casper Mason. After all, he just fired Harper who helped Sienna get the interview. But the moment Sienna sees Casper—or Caz—sweaty and practically shirtless and swinging from chains while he works on his sculpture, she's hooked. He's the richest, hottest artist in New York, and he lives in the fabulous Williamsburg Sugar Factory. But he's also an incorrigible game-player, who seems to relish testing Sienna's loyalty with a string of unsettling tests.


She knows she should get away fast. But by the time Sienna sneaks into his locked storage room and begins to unearth his dark and terrifying secret, she's fallen way too hard for the handsome, charismatic Caz.
You are also invited to the PI Facebook party on Oct 2, from 6 to 11 pm (EST). We'll have games, multiple author visits and giveaway prizes! Click here to see who's dropping by and join the fun.
To read about the inspiration for PI's unique setting on the Inkspell blog, click here.
Finally, here's a lineup of blitz book tour sites helping me celebrate this week. Thank you to all of the wonderful book bloggers! I couldn't do it all without you. (links go live on the day of posting)
And scroll down to enter the Rafflecopter for great swag and books!!!
September 29
Old Victorian Quill, Mythical Books, Book Boyfriend Junkies, Sue Cover Reveals, Books and Fandom, Megpie93's Book blog, Talk Books to Me, Books and Friendz, Becca Anne's Book Reviews, Worth Reading It, Reviewing in Chaos, End of Story, next Book, Wicked Woman's Book blog, The Reading Diaries, The Fantastical World of Wonders, Renee Entress's blog, Oops, I Read a Book Again, Lisa Voisin, Stephanie Keyes, Kelly Hashway/Ashelyn Drake, JM Bray, Aubrie Dionne, SA Larsen, Meradeth Houston, Brinda Berry
September 30
My Book Filled Life, LibriAmoriMiei, Obsessed by Books
October 1
Between the Lines, Tattoogirl Reads, Tome Tender, Pretty Little Pages, The Lusty Literate, Share my Destiny, Confessions of a Y.A. and N.A. Book Addict
October 2
Just Booked, Read it Woman, Scandalous Book Blog, Sweet and Spicy Books, Books, books and more books, The Book Lovers Codex, Kitty Kats Crazy About Books, Underneath the Covers, Not Everyone's Mama, Sassy Book Lovers, Haloangel Reads
October 3
jordansbookblog, Once upon a Twilight, Girls With Books, We Stole Your Book Boyfriend, So Many Books, So Little Time, True Story Book Blog, Books Direct, Kimber Leigh Writes, Naughty Book Eden, Escape into a Book, SunShy Book Reviews, My Secret Book Spot, Meleth Bookaddicted, Two Ends of the Pen, 101 Ways to Make Love to a Spoon, Paola's Bookshelf, Dalene's Book Reviews, My Favorite Things
May post anytime during blitz
Margay Leah Justice, Reading Addict, mamas secret book obsession, The Phantom Paragrapher