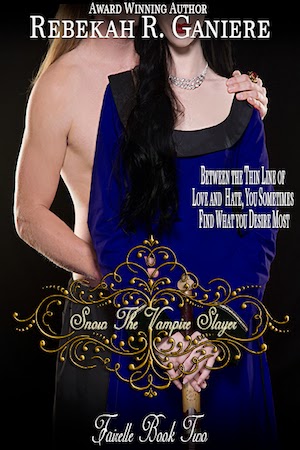 Time to start getting your Halloween-y creeptastic vibes on! Idea City is featuring two spooky reads.
The first is the Untethered Realms anthology
Twisted Earths
, which just launched! The next is the sexy Farielle series, featuring the newly released book Two,
Snow and the Vampire Slayer
by Rebekah R. Ganiere.
Twisted Earths is a story collection by the Untethered Realms author group, and there's a tale for every spec lover's taste: space opera, ghosties, high fantasy, dystopian, dark paranormal, and well, just plain twisted! Upload your copy from these sellers:
Amazon, Smashwords, B&N, Google Play, iTunes, Amazon UK
And now for a steamy twist on Snow White: Snow and the Vampire Slayer by Rebekah R. Ganiere. Here's the blurb, followed by a short excerpt:
BLURB:
Lady Snow Gwyn is tired of playing "mother" to her seven Vampire Slaying brothers. For the past two years, she's yearned to be out there fighting at their side as they hunt for bloodsuckers in the black of night. Snow is as good a fighter as any man, but she wasn't called to be a Slayer. A mere formality in her book.
Prince Sageren, Son of Lothar has spent the last fifty years in exile, awaiting the day when he can finally avenge his family and take back his throne. Barely existing, he's forced to face his inner demons and the monster he once was, compelling him to vow to never drink from humans again. A simple enough task–until he crosses paths with a human who makes his fangs ache to drain her.
When Snow runs into Prince Sage on a late night trip to the woods, she's torn between the urge to kill him and the desire to succumb to the feeling he stirs within her. And when Snow's life is threatened by the same evil that murdered his family, Prince Sage must enlist the aid of Snow's brothers to not only help him save her life, but to also regain his rightful place as King of the Vampires…    If Sage can keep the Slayers from killing him first.
Upload your copy from: Amazon, B&N, Kobo, All Romance Ebooks


EXCERPT:
Snow's anger flared and she was nose-to-nose with him in a step. "You left," she said. "I was trying to protect you from my brothers."
  "I told you I wouldn't be there. It's best for you if you aren't with me," he said. "It's safer."
  "Fine. Then I'll go." Snow unlocked the door and stepped into the hall. Sage grabbed her by the waist and pulled her back to his room, slamming the door and pressing her against it.
  He stared at her hard and leaned in closer, setting the palms of his hands onto the wood on either side of her head. His eyes glowed with a beautiful light from somewhere deep within, but they were full of sadness. His arousal pressed into her. 
  "Don't go."
  Warmth rushed through her body, flushing her cheeks and pooling in her belly. The sensation tingled and excited her. His fingers skimmed along her collarbone. He drew her face close and pressed his lips lightly to hers. Fire bloomed inside. Her body betrayed what her mind told her not to want. 
  Snow's lips parted and she lapped at his mouth with her tongue. He moaned low in his chest making her shiver. Sage wrapped his hands in her hair and crushed her into him. 
  Breaking his mouth away from hers, he kissed down her neck. She tensed as he reached her torn, but healing throat. His tongue slid tenderly over the still sensitive area. Her breathing hitched. The mixture of pain and pleasure blurred her senses. Her legs trembled and she pressed against the wood for support. 
  She wanted this. Even after what Sonya had done, somehow she still wanted this. Snow grabbed at his chest and he winced.
  "What is it?" 
  "Nothing." He averted his gaze.
  She studied his face. "You're lying." A spot of blood blossomed on his shirt where she had touched him. "Sage, you're bleeding," she said.
  "It's nothing." He plucked the tunic from his chest and his face twisted into a brief grimace.
  Something pricked in her mind and she ran her fingers under the edge of his tunic, trying to lift it.   He planted his hands firmly on her wrists, pulling her fingers free. "Don't," he said through gritted teeth.
  Snow clenched her jaw and narrowed her gaze on him. "Take off your tunic."
  "No," he said.
  "Let me see." When he didn't move, Snow shook her hands free of his grasp, grabbed the V of his tunic, and ripped it down the middle.
  "Snow," he said with an exasperated sigh. "That was a good tunic."
  She stared in disbelief. "Those scratches, those are…" She met his eye. "You should be healed. Vampires heal quicker than normal." He stared at her. "What's going on? Why aren't you healing?" she asked. "You've fed, haven't you?"
  Sage pressed his lips together forcefully and crossed his arms over his chest.
  Her mind churned at the possibilities. What could have caused him to not heal properly?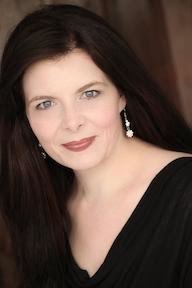 About the author
Rebekah is an award winning author. Her novel Dead Awakenings, debuted in January 2014. Red the Were Hunter, the first in her Farielle Series, released in May. The second book Snow the Vampire Slayer released September 2014. And her trilogy The Society will be released Nov. 17, 2014 by Kensington's Lyrical Press. 


Rebekah is the VP of Communications of the RWA FFP Chapter as well as a member of her local Los Angeles and Orange County chapters. In her spare time when she isn't writing you can find her moderating on SavvyAuthors.com or hanging out with her husband, four children and her English Bulldog, rabbit, two bearded dragons, and two tortoises. The escaped snake has yet to be found.