Witch of the Cards is on tour, hosted by Bewitching Books (How perfect for a witchy book). Also, a bunch of my fellow authors and bloggers are joining in the fun. A giant thanks to all! As always, tour stops go live on the day of, so make sure to pop back in to read new posts. There are guest posts about the Tarot, about why I love to set my novels in dilapidated, eerie locations, about my inspirations behind the story, and a really fun playlist, mashing up contemporary music (about witches and magic) with songs of the 1930s. A tour would not be complete without a great giveaway. So, make sure to enter the Rafflecopter below. Want to know what the prizes are? Here you go: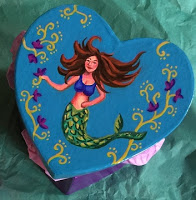 An earlier box – bewitching ones to come!
 One $40 gift card, two hand-painted heart-boxes (by me) with secret treasure inside, one signed paperback of Dorianna, one signed paperback of Witch of the Cards, one brand new collector Tarot deck along with an envelope full of special greeting cards (with envelopes) designed by me!
TOUR March 28 – April 11
March 28 – Guest Post – The Allure of Creepy Beach Towns as Settings
Addicted 2 Heroines
March 28 – Feature & Guest Post
In Pursuit of Publishness
March 30 – Playlist!
Dawn Brazil's Brilliant Babbles About Books
March 29 – Feature & Excerpt
Leigh Anderson Romance
March 30 – Spotlight & Excerpt
Kristy Centeno
March 31 – Spotlight, Teasers
Ramblings of a Book Nerd
March 31 – Spotlight, Teasers
fuonlyknew
April 1 – What's in a Penname?
Mythical Books


April 1 – Spotlight
Extreme Bookaholic's Blog
April 1 – Inspirations Behind the Story!
Fresh Pot of Tea
April 4 – Guest Post – Magical Taffy & Other Weirdness
Hart's Romance
April 4 – Feature & Why I Love Creepy Beach Towns
Christine Rains, Writer
April 4 – Feature
Ellie Garratt


April 5 – Interview
Fang-tastic Books
www.fang-tasticbooks.blogspot.com
April 5 – Feature
Julie Flanders
julieflanders.blogspot.com
April 6 – Guest Blog – TAROT!
Juli D Revezzo
http://julidrevezzo.com/blog/
something about tarot
April 6 – Feature
Cherie Reich
http://cheriereich.blogspot.com
April 6 – Feature
Write Stuff
meradethhouston.blogspot.com
April 6 – Guest Post
Mary Pax
http://mpaxauthor.com/blog/
April 7 – Spotlight
Roxanne's Realm
www.roxannerhoads.com
April 7 – Feature
Liz Long
http://lizclong.com/blog
April 8 – Guest Blog
Sapphyria's Book Reviews
http://saphsbookblog.blogspot.com/
April 8 – Review
Queen of All She Reads
http:queenofallshereads.blogspot.com
April 11 – Guest Blog
Books Direct
https://booksdirectonline.blogspot.com.au/
Researching Historical Fiction OR author's choice
April 11 – Review
I Smell Sheep
http://www.ismellsheep.com/
April 11 – Feature
https://bibliogalblog.com (Rebecca Milhoan)
Get it at: Amazon US, Amazon UK, iBooks, Kobo, B&N/Nook, Inktera, Amazon CA, Amazon AU, Amazon IN, Amazon DE