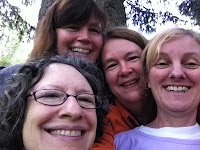 Western Catskills Writing Gang
I've been to excellent writing retreats and conferences. There's Squaw Valley on the north shore of Lake Tahoe, there are multiple ones along coastal California and Southhampton conference out on Long Island. There's a popular one put on by the Highlights Foundation in PA during the summer. Basically, writing communities pop up in places where swimming or nature walks abound.
Some of my favorite ones are homegrown. For years I've attended a retreat on Cape Cod with good friends. Coffee on the morning porch, then a bit of exercise, then writing on the same wraparound porch–all afternoon until words swim in one's head and pages unfold on laptop screens. Then it's a bracing swim in the ocean, and a dinner of tacos or chicken burgers, followed by evening readings.
I couldn't get to the Cape retreat this year because I was invited to teach creative writing in Greece. Boo hoo, right? I wasn't complaining, except, when I came home and settled in, it felt as if something big was missing.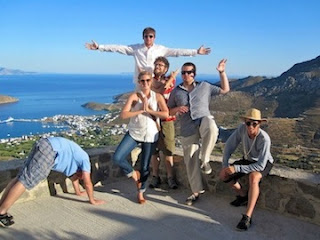 My awesome Summer Seminars in Greece writing students
strike a Zen-ish pose
And then came the July from h**l, where the gas to the entire building was shut off because there was a leak and people called Con Ed instead of the super. I had minor surgery (Went well and I'm great, thanks) and I was unable to shower. We also had a huge thunderstorm and the drains clogged and flooded, and… you get the picture. During all of this I developed writers' block, which I've never, ever had. And I kept wondering, was it from all of the calamity?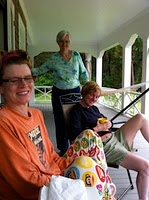 Cape Cod Writers' Coffee
No. Not really. My real problem was that I missed that infusion of writerly energy that comes from good friends sitting on a porch together and writing all afternoon and spurring each other on. I missed the war stories over coffee, and the shared tales of triumph too.
So, I decided to create my own writers' retreat after the fact; at my place in the Catskills, with some very good writer buddies. It was perfect weather–pre-September fall at 65 degrees, sun in a teal sky. We sat outside in the tall yard grass and wrote all afternoon. At night, we cooked together, and then read the Tarot for each other. We also played a fun dictionary game, and another where you sing songs that use certain words. Writers' games.
There was talk of angsty obstacles overcome, of strengths and fears. All of the stuff that binds people together and helps us face whatever, whenever. I'm unstuck, I'm writing again, and the best thing? We've already reserved a three-day weekend for a winter version of the retreat. Writing by a crackling fire with hot chocolate in hand. And breaks for snowy playtime. Yup.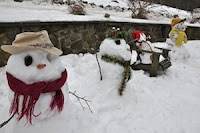 Mr & Mrs Snow with their
two snow boys
Community.
Is everything.
How do you replenish your writing spirit?