Happy Labor Day, and beyond. Today's post will be a potpourri of random bits, not unlike my mind today.
First order of business: We had a great party at our Catskill retreat on Saturday, and someone fed the leftover hamburger/cheese dip to the cows in the meadow, which they scarfed down with glee.
Question #1:
Is it still cannibalism if the eaters don't realize they're munching their own kind?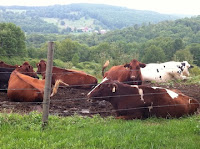 Unsuspecting cattle
Secondly, I start teaching tomorrow, and I look forward to it, while at the same time, feeling spoiled by months of free time. Now that my time is in large part claimed, will I put the rest of it to better use that I did in my laze-about summer? I teach at the School of Visual Arts and I noticed on Gallery Girls (Very catty but fun show that is my new addiction) one actor is attending SVA. Will I see camera crews milling about there? Question #2: Have you seen camera crews shooting Gallery Girls around Manhattan and Brooklyn?
This reminds me of another summer event: Law & Order, Special Victims' Unit used our foyer this summer to film a scene where the head guy is dragged out in handcuffs after they find him bedded down with a dead prostitu*e!!! His hands were all dripping with fake blood. Interesting to watch the takes, though the actor that I was secretly hoping to see was Ice Tea, who wasn't in that episode. Look for it, folks. That's our very own front stoop he's dripping his fake blood on!
Fireseed One book news: we are a Weekly Featured Great Read on Digital Book Today through this WED and there's ONE more week to buy Fireseed One's ebook version at the summer sale price of $0.99 before it drifts back to $2.99.
I hired a designer to revision the Fireseed One Facebook page, and he did a gorgeous job! What do you think of it? Check it out here and please follow for news, sequel info, swag and more.
Fireseed One also has a brand new twitter page, and would love you guys to follow it too!
Soon, I will have a redesign of my website and a brand new study/book club guide, so I guess I haven't been totally lazy this summer.
Oh, I did a guest post on sequels and trilogies on the fab YA's The Word. Read it here.
What have you been up to, talented writers, and what are your first fall activities?
Stay tuned for Idea City's post on Monday, September 10 to help Sheri Larson celebrate her new agent. We'll have LOTS of giveaway items so check back in!